How HiddenApp helped Deriv.com secure their device fleet
When its entire team went under lockdown during the COVID-19 pandemic, Deriv.com needed an effective and flexible way of quickly securing its 300-strong Apple device fleet. It turned to HiddenApp.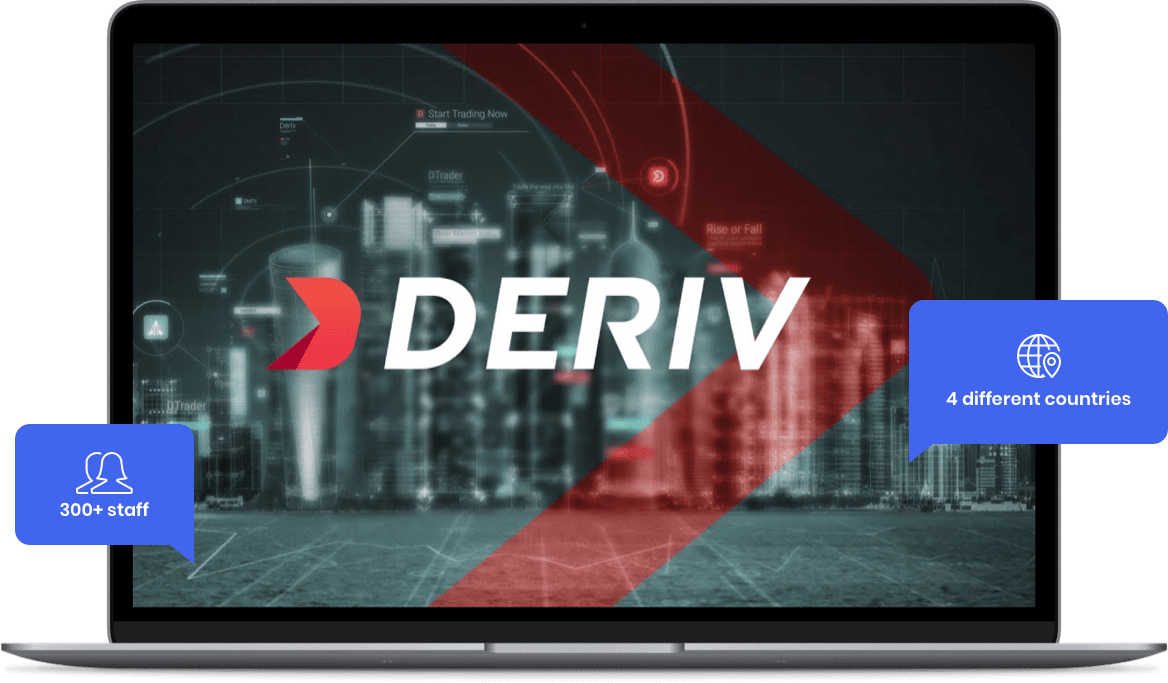 Deriv Group's pioneering online trading services, Deriv.com and Binary.com, have been a skyrocketing success.
The Group is powered by its relentless focus on customer service, and its mission to make trading globally accessible to millions. With more than 1.2M trading accounts opened and more than US$7B in trade turnover, Deriv.com and Binary.com's customer base and market appeal have grown from strength to strength.
Behind the success is a truly global team: a dedicated group of 300 staff of over 40 different nationalities, based across four countries. Deriv Group's founder, Jean-Yves Sireau, says, "My team has worked tirelessly to give people back the control to trade what they want, when they want. They've created a platform that's earned the trust of our customers. And we never take that trust for granted. Our customer data security and privacy are at the heart of what we do. In our line of work, just one data breach could destroy the credibility and reputation that we've built up over the years, and put us in line for huge fines for non-compliance."
When COVID-19 hit, Jean-Yves was not prepared to risk the health of his staff or their families and responded by implementing a work-from-home policy for the entire team. While the team is well trained in working as a dispersed group, taking laptops home introduced a number of new and immediate risks.
Jean-Yves says, "Although Deriv.com people are well-versed in security good practice, it was immediately obvious that fleet management for an even more dispersed workforce was going to be an issue. And because we wanted to reassure our customers that security — and business — would continue as usual, everything had to happen fast. So I was on the lookout for something that could keep a tab on our fleet's location, ensure approved IPs were being used by our team, and had the ability to deploy remote security features in the event of a device being compromised."
Secure within minutes
The Deriv.com team deployed HiddenApp's Mass Deployment tool to register its devices, enabling a full security net over the entire Deriv.com Apple device fleet. Deriv.com team members were able to get up and running with devices fully-secured quickly. Its security staff was able to monitor, manage, and track the fleet from a central control point, enabled by the user-friendly HiddenApp devices dashboard.
Peace of mind as standard
Jean-Yves says, "Knowing that everybody's devices were under secure central control, wherever they were in the world, gave me the peace of mind that we had protected our customers' security and would be recognised by our customer base as reliable and responsible with their data."
Simplicity is key
Deriv.com also wanted a solution that was easy to use. The intuitive HiddenApp dashboard which, despite its simplicity, has powerful reporting capabilities, enabled the team to take full control of important company assets. With an at-a-glance overview of the entire asset register, staff could assign devices, custom segment the entire organization and deploy security actions across some or all the devices at once.
Should the need arise, HiddenApp's functionality would allow Deriv.com to respond quickly to actual or potential security breaches through a comprehensive suite of security functions. These include enabling Deriv.com to remotely locate every device in the fleet, track the location history and to block access to any device. If there should be a data breach emergency, Deriv.com now has the power to — at a keystroke — remotely lock down the entire fleet.
Headspace for other challenges
"With our fleet of devices secured, my team had the headspace to ensure business continuity," says Jean-Yves. "We could focus our time and energy on steering the business through the many other challenges presented by this unique situation."
Why Deriv.com selected HiddenApp:
Provides complete security setup.
Gives the Deriv.com security team centralized control and easy access to key device features.
With HiddenApp's Device IP Management features, Deriv.com can monitor that staff are connected to the right secure network, which is of critical importance when a company goes remote.
Enables flexible device management: admins can instantly locate and, if need be, lock one, some or all devices with a fully customizable lockdown screen message.
Enables remote wiping of sensitive data, in case of loss or theft of devices.
"With our fleet of devices secured, my team had the headspace to ensure business continuity, We could focus our time and energy on steering the business through the many other challenges presented by this unique situation."
Deriv Group's founder